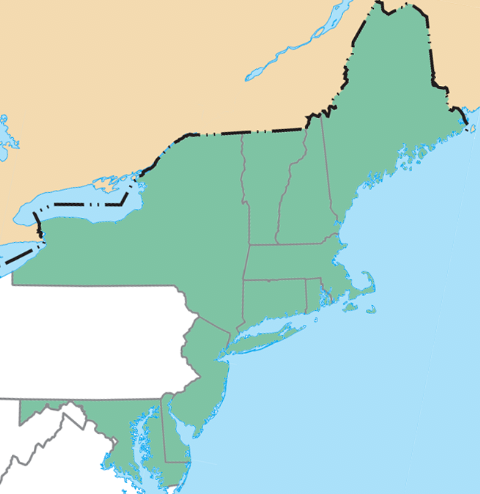 Overview and History
The Regional Greenhouse Gas Initiative was created several years ago as the first United States Cap and Trade program covering ten states in the northeast. Its goal was to force fossil fuel burning electric power plants to use more efficient and less carbon intensive power production by forcing producers to buy "allowances" for each ton of CO₂ they emit. Each allowance covers a three year time period.

The number of allowances available is set by each state's CO₂ Budget Trading Program and sold at an auction run by RGGI, Inc and traded on something like a commodity trading market. Over time the allowances available will decrease, and the intent is that as the state's electric demand rises, the cost of the allowances would rise, and the producers would implement various efficiencies to reduce their CO₂ emissions.

This presupposes two things. First, that CO₂ emissions cause global climate disruption (that's the current preferred term), and second, that electrical demand will rise. The former is being called more and more into question as effects like the transition from a warm mode of the "Pacific Decadal Oscillation" to a cold mode bring more La Niñas and fewer El Niños, and reduced solar activity reenergizes the debate about the Sun's role in climate. The latter is the great recession starting in 2008 has reduced energy demands as factories have closed.

The result is that the CO₂ allowance auctions have been undersold, and hence allowances were sold at the floor price of $1.86 per ton for auctions 8-10. It wasn't supposed to be like that. The highest sale price, $3.51 in auction 3 (March 2009) was supposed to be a stepping stone to prices of $10-$15 per ton.

The money raised at the auctions goes back to the states, with the intent that it be used to fund various conservation projects ranging from insulating homes to helping electricity producers become more efficient.

As the recession strengthened, the public's concern about global warming waned due to predictions falling short, various winter events affecting millions of Americans, and having bigger problems like buying heating oil or paying the mortgage.

In 2010, some RGGI states (NH, NJ, NY) redirected some RGGI revenues to their general funds to help balance their budgets, and all of a sudden RGGI looked more like a "stealth" tax than a source of conservation funds. Also, the republican victories that year changed the face of many state legislatures and people began to realize they might be better off without RGGI.

Legislative action began in 2011, and that is the focus of this web hierarchy. The focus on this page will be on a chronology of events and the current status of repeal efforts.

The ultimate goal of this effort is not to get individual states out of RGGI, but to shut down RGGI Inc. altogether. Not all ten states need to withdraw, just enough to make RGGI pointless to continue.
Events
This section will likely emphasize New Hampshire events, simply because I live in New Hampshire. I'll be actively looking for news from other states and setting up contacts in other states. Suggestions welcome!
2013 future events
I'll include various hearings since readers may want to attend, though I haven't been doing a very good job keeping this updated. NH's current governor, Maggie Hassan is a strong supporter of RGGI "because it has helped create jobs and reduce energy costs." So I'm not expecting much progress on repealing RGGI, if fact, it will probably grow during her term.
2013 past events
Jun 7: The results from RGGI Auction 20, held on Jun 5, have been released. 100% of the 38.7 Million CO2 Allowances were sold with a clearing price of $3.21, well above the floor price of $1.98. 32% of the allowances went to non-compliance entities.
Mar 7: The results from RGGI Auction 19, held on Jun 5, have been released. 100% of the 38.7 Million CO2 Allowances were sold with a clearing price of $2.80, well above the floor price of $1.98. 31% of the allowances went to non-compliance entities.
2013 past events
Mmm dd:
Mmm dd:
Mmm dd:
Mmm dd:
Mmm dd:
Mmm dd:
Mmm dd:
Mmm dd:
Feb 7: RGGI.org announces:


... the Participating States have conducted a comprehensive program review. Proposed amendments to RGGI have been incorporated in an Updated Model Rule released on February 7, 2013.

The Updated Model Rule will guide each state as it follows its own statutory and/or regulatory procedures to propose updates to its CO2 Budget Trading Program.

The program review reports:

A significant excess supply of allowances relative to actual emission levels in the region.
The current cost control measures in the program, which are based upon expansion of the percentage of offset allowances allowable for compliance, would likely be ineffective in controlling costs if the emissions cap is made binding.

Their "fixes" include reducing the cap in 2014 (from 165 million to 91 million tons), further adjustments to deal with proactive purchases by producers, and creating a pool of allowances to sell if open market price goes too high.

Mmm dd:
2012 past events
2011 past events
I'll drop the some of the hearing information as the votes happen in the committees and larger bodies.
Dec 9: RGGI Auction 14 was held two days ago and the results announced today. 63% of the current control period allowances sold (a big increase over the previous period, but like the last time none of the 2012-2014 allowances sold!

The 63% sold is much more than I expected.

Sep 19: RGGI 2012 Program Review starts in New York.

The 2012 program review is expected to examine the Regional Greenhouse Gas Initiative's (RGGI) successes and operations, whether it can achieve additional emission reductions, and whether it has caused higher emissions outside its 10 member states' borders. Businesses and market participants hope the nine participating northeast US states will choose to tighten the program's cap during its second control period, which will run from 2012 to 2014. Because of a drop in GHG emissions due to the economic recession, the electric sector carbon market is oversupplied with allowances, leading to low prices that many believe aren't encouraging a transition to cleaner fuel sources in the region.

Sep 9: RGGI Auction 13 was held two days ago and the results announced today. Only 17.5% of the current control period allowances sold, and none of the 2012-2014 allowances sold! Some states like New Hampshire have contracts funded by the auction proceeds, some of those may be in trouble. I expect the 4th quarter results will be much lower, perhaps 5% sold.
Sep 7: The NH failed to override the governor's veto of the RGGI withdrawal bill and hence New Hampshire remains in RGGI.
Aug 19: New Jersey's Governor Christie veoted a bill that found the governor's decision violated the intent of the legislature and would have required New Jersey to remain a member of RGGI. Christie called it a "political response" to his decision to withdraw from RGGI.
July 7: New Hampshire governor John Lynch vetoed the RGGI withdrawal bill, as expected. By then it had morphed from HB-519 to SB-154. That bill was originally changes to the state's Shoreland Protection Law, but its provisions became law through HB-2. The RGGI repeal had been attached to SB-154 in hopes that the Senate would pass both parts. Sausage making?
June 29: The New Jersey assembly voted 43-34 on a bill requiring the state to stay in RGGI and also on a non binding resolution that characterizes any withdrawal from RGGI as an infringement on the Legislature's intent to support anti-global warming initiatives.

Governor Christie is expected to veto the first and ignore the second.

June 29: The New Jersey senate narrowly approved a bill requiring the state to stay in RGGI. The assembly (house) is considering an identical bill.
June 27: A lawsuit was filed in state supreme court alleging that New York entered the RGGI compact by and act of the governor, without legislation. The suit argues that RGGI is a tax (bolstered by Gov Peterson transferring RGGI funds to the general fund to balance the budget) and that only the legislature can create a tax. The suit requests the court to order the state to stop enforcing RGGI.
June 10: Results for RGGI Auction 12 were released. I'm pleased that it went pretty much as I expected, only 30% of the available allowances for the current control period sold. I had expected more than 10% simply because the the previous auction was oversubscribed by 10%. I wasn't sure how much more, but would have been surprised if demand was more than 50%. Similarly, I expected at least 40% of the allowances for the 2014 control period to sell, and 51% sold. Both of these results are the lowest percentage sold of previous auctions for each class.

It appears power producers have been approaching purchasing allowances on a calendar year budget, a similar pattern happened last year too.

May 26: New Jersey's governor, Chris Christie, announced that NJ would withdraw from RGGI at the end of 2010. I'm surprised he can do that without legislative approval, as is the legislature.
May 11: Delaware's House Energy Committee tables their get-out-of-RGGI bill so it won't be considered by the full house.
May 11: Maine rejects their get-out-of-RGGI bill and reaffirms an original condition to Maine's participation in the program - specifically that New England states producing a minimum of 35 million tons of the annual carbon dioxide emissions budget must continue to participate in the program.
May 11: The NH Senate's full membership voted for HB 519-FN, 15-9.
And apparently next voted 16-8 for Jeb Bradley's amendment (really his replacement) that keeps the state in RGGI, but cancels much of its impact.

16 votes are needed to be able to override an expected veto from Gov. Lynch. (It has to go through the Senate Finance committee, a house/senate conference committee and maybe a couple others first.)

May 5: The NH Senate's Energy and Natural Resources committee voted down HB 519-FN, 3-2. This gives the bill an "Inexpedient to Legislate" tag, but the bill continues the legislative process. It will next go to the senate's Finance committee, back to the Energy and Natural Resources committee, and then to the full senate.

One thing the committee considered was an amendment introduced by Sen Bradley that rewrote the enitre bill. It removes much of the controversial funding of various groups, training, and insulation subsidies, leaving only some money for the "core" energy efficiency programs and funds it with $1.00 of the money received from each carbon allowance sold. (Currently a minimum of $1.89.) The remaining money will be given to ratepayers on a per-kwh basis.

It also changed the withdrawal trigger from the end of the year to when states representing 10% or more of the RGGI allowances leave RGGI. Apparently that was changed to just the New England states, but I'm not clear on the details. Apparently Sen Bradley withdrew the amendment saying it wasn't ready. Without Bradley's amendment there may not be enough support for the bill in the full senate, or at least, not enough to provide a veto-proof majority.

My testimony for the hearing is at http://wermenh.com/rggiwatch/enr_testimony.html .

Apr 6: Delaware HB #86 is introduced and assigned to the House energy committee.
Mar 30: The full house final vote approves repeal 251-108. On to the senate.
Mar 11: Auction 11 results are out. Quite to my surprise, the auction was oversold, but the sale price for both the current and future control periods came in at the auction floor price of $1.89/ton.
Mar 9: NH House Finance committee review and vote. I distributed notes written for the Finance Committee beforehand. Chairman Weyler had time to allow interested parties speak, so I did as did Mike Head, a research economist at the Beacon Hill Institute. The democrats on the committee had to leave for another commitment and were voted "absent." The other members, all republicans, voted in favor of "ought to pass".
Feb 23: NH House approves repeal, by a veto-proof margin of 246-104.
Feb 17: NH House Science, Technology and Energy committee approves repeal.
The voting is pretty much along party lines. I spoke in favor of the bill emphasizing that CO₂'s effects appear to be overstated. Most of the opposition referred to the programs that would lose RGGI funding. Only Cameron Wake referred to CO₂ science in his testimony opposing the repeal.
NH HB 519-FN, "AN ACT repealing New Hampshire's regional greenhouse gas initiative cap and trade program for controlling carbon dioxide emissions," is introduced.
2010 events
Sep 13: NJ ASSEMBLY, No. 3147, "An Act repealing the "Global Warming Response Act," P.L.2007, c.112, repealing various sections of P.L.2007, c.340, and amending various sections of the statutory law," introduced.
Sep 13: NJ SENATE, No. 2250, "An Act repealing the "Global Warming Response Act," P.L.2007, c.112, repealing various sections of P.L.2007, c.340, and amending various sections of the statutory law," introduced.
WWW Resources
There are only a few web sites that have take a broad look at RGGI, most web pages are news stories about an individual state.

RGGI.com, not surprisingly, is home to many reports looking at multiple states. Their RGGI Benefits reports all the good, and ignores most the bad.

The November 2011 release of a study by the Analysis Group of The Economic Impacts of the Regional Greenhouse Gas Initiative on Ten Northeast and Mid-Atlantic States manages to turn some negatives into positives, e.g.:
The States Have Used CO2 Allowance Proceeds Creatively - Supporting Diverse Policy and Economic Outcomes


The states' use of allowance proceeds not only provides economic benefits, but also has helped them meet a wide variety of social, fiscal, and environmental policy goals, such as addressing state and municipal budget challenges, ....
One major criticism of RGGI is that four states used RGGI funds to help balance their budgets even though RGGI proceeds meant for energy related programs. A budget "challenge" is a nice way to say "shortfall." It also provides strong support to people who point out that the CO2 allowances are not a fee, not part of the free market, but a tax.
A partial refutation comes from The Institute for Energy Research which focuses on increases in electricity bills and the differences in how the benefits and harms are computed.
RGGI States and status
The "news and opinion" links include some that oppose the repeal effort. While this page is strongly biased for repeal, I won't exclude the other side. Besides, some of their arguments help support the repeal.
Connecticut
Delaware
Delaware RGGI exit bill, HB #86 was introduced on 2011 Apr 6 and assigned to the House energy committee.

It was tabled on May 11 and hence will not go to the full house.
Maine
Maine Senator Tom Saviello, Chair of the Environmental & Natural Resources joint committee, has introduced LD 793 (SP 231) that includes:
Sec. 5. Withdrawal from regional greenhouse gas initiative. Notwithstanding any other provision of law, the Department of Environmental Protection shall take all necessary steps to withdraw the State from all memoranda of understanding and state contracts with other states relating to the regional greenhouse gas initiative authorized pursuant to the Maine Revised Statutes, Title 38, section 579 and chapter 3B. Upon successful completion of the withdrawal, the department shall submit legislation to the Legislature making necessary changes to laws relating to the regional greenhouse gas initiative.
However, the billed was rejected by the Energy, Utilities, and Technology Committee which also reaffirmed an original condition to Maine's participation in the program - specifically that New England states producing a minimum of 35 million tons of the annual carbon dioxide emissions budget must continue to participate in the program.
I know nothing about that condition, and will look into it when I get a chance.
News and opinion:
2011 May 11: Environment Maine reports:
The Energy, Utilities, and Technology Committee today rejected a bill, LD 793, which would have withdrawn Maine from the Regional Greenhouse Gas Initiative (RGGI). Instead, it reaffirmed an existing condition for Maine's participation in the RGGI program.

The amendment approved today reaffirms an original condition to Maine's participation in the program - specifically that New England states producing a minimum of 35 million tons of the annual carbon dioxide emissions budget must continue to participate in the program.

No Maine businesses testified in support of the bill at the public hearing in April. In contrast, several large companies that have received RGGI grants, including Moose River Lumber, Twin Rivers Paper, GAC Chemical, Maine Wild Blueberry, Mt. Abram, Portage Wood Products, Jackson Laboratory, and Sunday River sent the Committee a letter saying that "Businesses like ours have benefited directly from RGGI funds because the money has supported investments that reduce energy costs and allow us to operate more efficiently and profitably." The companies urged the Committee to "...ensure that businesses like ours and the state as a whole can continue to benefit from the program by using the RGGI program to leverage additional investments in cost-effective energy efficiency, including in Maine's industrial sector, where such opportunities abound."
The first I heard about the bill's introduction was from a Maine Public Broadcasting Network story that takes a mostly dim view of the bill.
Maryland
The Analysis Group report says that Maryland has put some RGGI proceeds into the general fund, something I hadn't seen in other sources. They also use the majority of the funds for "Direct bill assistance," which certainly does not help the goal of reducing CO₂ emissions.
Massachusetts
Suffolk University has a group of economists called the Beacon Hill Institute. They've done a study titled The High Cost of Green Energy Programs in Massachusetts.
A new analysis by the Beacon Hill Institute (BHI) shows that the state's green energy policies will cost Massachusetts ratepayers more than $9.8 billion over the next decade. These costs will be in addition to the market prices for energy, already among the highest in the nation.

The Commonwealth of Massachusetts imposes 25 unique green energy mandates and programs upon consumers and businesses. BHI examined the costs of 11 of those 25 mandates and programs. It focused only on impacts to ratepayers, not to taxpayers. Thus, its estimates are considerably below what would be expected if costs of all mandates and programs were quantified for state ratepayers and taxpayers.
Full study
New Hampshire
2011 bill: NH HB 519-FN
Title:AN ACT repealing New Hampshire's regional greenhouse gas initiative cap and trade program for controlling carbon dioxide emissions.

The bill should have passed the house, gone through the House Finance committee, then the Senate (and committees), and then the governor, who would veto it. However, while the house margin is veto-proof, the senate's margin was one vote short of a veto-proof majority. Sen. Jeb Bradley introduced an amendment that rewrote the bill. His bill would keep NH in RGGI, but only allow the state to keep $1.00 of the proceeds from each allowance, with the rest being returned to taxpayers. That amendment passed with that one extra vote.

However, the house was intent on repealing RGGI, and didn't go along with the senate during the conference committee. Instead, they attached their bill to a shoreland protection bill, which passed the senate with that not quite a veto proof majority. Governor Lynch vetoed the bill in early July, saying "I am vetoing this legislation because it will cost our citizens jobs, both now and into the future, hinder our economic recovery, and damage our state's long-term economic competitiveness."

The legislature considered a veto override vote late in the summer and the Senate failed to override. The 2011 auctions didn't bring in enough money to cover the grants that were made, and the account ended the year $600,000 in debt.

The first 2012 auction brought in $2 million, which will cover the excess grants but likely not keep pace with last year's rate.

For 2012, the New Hampshire House attempted to get NH out of RGGI again. The is very different than last year's bills and gets NH out of RGGI over a 2-3 year period.

2012 bill: HB1490-FN, AN ACT repealing New Hampshire's regional greenhouse gas initiative cap and trade program for controlling carbon dioxide emissions

Much like 2011, the house passed with a large veto-proof majority. The senate balked, and Sen. Jeb Bradley introduced an amendment that rewrote most of the bill much like last year, and that passed with a minimal veto proof majority. Gov. Lynch did not veto the bill and it quietly passed into law late in June.

The amended analysis section of the bill says, with editing, that it:

The bill contains a contingent repeal of New Hampshire's RGGI program if two or more New England states withdraw or agree to withdraw from participating in the initiative or if a state which has at least 10 percent of the total load of the New England states participating in the initiative withdraws or authorizes withdrawal from participation in the initiative. This was in the 2011 amendment as well.

2013 bills:

House Bill 306 implements the reductions in the RGGI CO2 allowances proposed by RGGI in February.

House Bill 630 and SB123 changes the allocation of money from RGGI auctions that isn't returned to ratepayers to change from 100% to the core energy efficiency program that supports electricity producers to 85% to that and 15% (at least 15% in HB630) to the low-income core energy efficiency program.

News and opinion:

http://www.foxnews.com/opinion/2011/02/28/giant-leap-forward-new-hampshire-smacks-cap-trade/
New Jersey
2010 Bills: ASSEMBLY, No. 3147 and the nearly identical SENATE, No. 2250 have been introduced to repeal the "Global Warming Response Act" and related sections of Regional Greenhouse Gas Initiative implementing law. SENATE, No. 2946 and the nearly identical ASSEMBLY, No. 4108 were introduced to keep NJ in RGGI after Gov. Christie announced NJ would be leaving it.

Governor Chris Christie made the first bills moot on May 26 by announcing he is withdrawing NJ from RGGI at the end of 2010. The legislature responded by introducing and narrowly passing bills to require NJ to be in RGGI. These bills modify the 2007 legislation to change words like may and should to be must and shall and do other things to make it clear the legislature was not making RGGI optional.

It appears the legislature will not be able to override the certain veto from the governor, so the bills are likely just political posturing but may be useful in future legal challenges.

One down, nine to go! And a rather big one at 13.3% of the 10 state region. When New Jersey withdraws, RGGI will be split into two disconnected subregions, with Maryland and Delaware connected to no other RGGI states.

In January 2012, the state legislature introduced Senate Bill S-1322 that would require the state to rejoin RGGI. The Senate passed the bill in March, the Assembly passed in May, Governor Christie has stated he will veto the bill.

Meanwhile, Environment New Jersey and the National Resources Defense Council filed a lawsuit on June 6 against Governor Christie and the state Department of Environmental Protection for withdrawing from RGGI.

Useful sites:

Your RGGI Repeal Resource!
This is an AFP page that has links to various aspects about the repeal effort for New Jersey.

No NJ Cap & Trade
A NJ-centric blog on the NJ effort created by Americans for Prosperity. There are also several references to activity in New York.

News and opinion:

2011 June 24: NJ Legislators Working to Block Christie's Carbon Market Exit
Legislators admit that the governor would likely veto the measures if they land on his desk. But the sponsors remain hopeful that their bills, which try to limit Christie's power on the issue, could at least influence future lawsuits or other enforcement actions over the state's participation in the Regional Greenhouse Gas Initiative (RGGI).

2011 May 26: New Jersey announces intent to pull out of RGGI cap and trade - Christie strikes major blow
Links to news stories on the subject report that Christie will not allow new coal-fired electric plants in the state and intends to make NJ #1 among the off-shore wind turbine power production sites.

2011 May 10: Ocean Spray cites tax for move
[Ocean Spray Executive] Haines told [Senator] Allen the Regional Greenhouse Gas Initiative helped lead to last week's announcement Ocean Spray is leaving Bordentown City for Lehigh Valley, Pa.

That will be interesting. RGGI Inc is supposed to keep an eye on businesses moving in and out of the state. It will be interesting to what they have to say, and when.

However, the good news is, the cap and trade repeal bill already has the backing of 45-lawmakers from the new jersey senate and general assembly.

2011 Apr 20: Democrat State Senator Paul Sarlo publicly announced his co-sponsorship of the repeal effort

NBC 40 says However, the good news is, the cap and trade repeal bill already has the backing of 45-lawmakers from the new jersey senate and general assembly.
New York
RGGI was championed by New York Governor George Pataki and apparently New York entered RGGI on just Pataki's action unsupported by state legislation. In 2010, Former Gov. David Paterson used $90 million of RGGI funds to cover the state budget deficit. Americans for Prosperity member Lisa Thrun and others filed a lawsuit on 2011 Jun 27 in the state Supreme Court seeking to end New York's participation in RGGI.

The key points of the complaint are:
The New York constitution gives the legislature the power to enact taxes, the governor can only veto tax bills.
RGGI is a tax. Patterson's transfer of RGGI funds to the general fund makes that an easy argument.
RGGI violates the federal constitution as it is an interstate compact, and no state may enter into an interstate compact without the consent of the US Congress. I'm a bit surprised no one has used this in RGGI legal proceedings, but there haven't been many and there may be a tacit assumption that the US Congress would approve RGGI anyway.
The lawsuit is pretty easy to follow, I'm surprised it's recieved little news coverage. (Actually, I'm not surprised. My opinion of the news media is nearly as low as it can be.) I don't see how New York can respond to this suit except by passing legislation to require participation in RGGI or by pulling out. The federal issue may be ignorable since this is filed in state court.
On 2012 June 12, the lawsuit was rejected without considering the plaintiffs' claims. From the SPR Law blog comes this clear summary:
The court held that plaintiffs lacked standing to bring the lawsuit because they did not suffer a distinct injury. It also ruled that plaintiffs' claims would have been barred (regardless of their lack of standing) based on their failure to bring a timely challenge. The court agreed with the state defendants' arguments that businesses have adjusted their practices based on RGGI, numerous programs would lose funding if RGGI were invalidated, and that plaintiffs provided no reason why their action was delayed until 2011, approximately six years after the RGGI program was adopted in New York.
Meanwhile, on May 24th, NY Assemblyman Christopher Friend filed Bill A10377 which would pull New York out of RGGI along with other compacts and programs not voted on by the state legislature:
Assembly Bill A10377

The state shall not enter into any compact, program, or other legal agreement of any kind with any other state or foreign government that imposes legal or regulatory requirements on new york state residents unless such compact, program, or other legal agreement is enacted, approved, or ratified through the passage of enabling legis- lation. any compact, program, or other legal agreement which conflicts with the provisions of this section shall be null and void.
News and opinion:
2011 Jun 28: Suit hits Cuomo, DEC, NYSERDA over cap-and-trade
This article has details about the lawsuit described above.
2011 Nov 3: November Speaks: New York's Nineteenth District Rejects Hall, Cap-and-Trade
2012 Jul 13: The Sive, Paget & Riesel environmental law firm's blog is the source for the note above about the lawsuit's dismissal. The blog is worth visiting because it's one of the few sites I've encountered that is not excessively biased one way or another.
2012 Aug 26: RGGI is meant to encourage power plant operators to make their plants more efficient. It can also depress the value of a coal fired plant, providing justification to reduce the taxes on the plant. Even with that, a plant may not be economical to operate, much to the chagrin of the immediate area.
The Niagara Gazette reports on the transfer of the largest coal fired plant in New York from the old bankrupt operators and cites RGGI as one of the challenges for the plant. Excerpts:
The group discussed roadblocks the coal plant has had to navigate.

One of them is the Regional Greenhouse Gas Initiative. Members of the group at Somerset said RGGI is endorsed by environmentalists and penalizes coal and gas-fueled power producers in favor of solar and wind energy. Since RGGI was adopted, AES has been on a down slide, according to the plant managers.

The group instead endorses the state's Energy Super Highway efforts - which Gov. Andrew Coumo is pushing - to get electricity from upstate sources to downstate customers - principally New York City. The energy highway would update the infrastructure with a billion-dollar effort.

However, the state is also considering a project to pipe power downstate from Ontario through the Hudson River or bringing electricity in from New Jersey. The Garden State opted out of RGGI, giving New Jersey an advantage.

Engert said that RGGI, shifted the burden onto the taxpayer. The town has had to renegotiate its Payment in Lieu of Taxes agreement (PILOT) three times with the AES. With AES payments down, school, county and town taxes go up.

There is an effort for full repeals of RGGI and Corwin said withdrawal from the compact is possible. Environmentalists are fighting to save it.

"It hurts New York state business," said Goodenough who is chief operating officer for the new endeavor. "It has had a reverse affect."
Rhode Island
Vermont
Regional News and Opinion
2011 Apr 8: Three States Consider Withdrawal From RGGI


NHPR's Amy Quinton offers the first news item I've seen that looks beyond getting one state out of RGGI to the goal of taking down RGGI, albeit reluctantly:
Anthony Leiserowitz, with the Yale University Project on Climate Change, says if New Jersey steps out it could deal a death blow to RGGI.

"How it plays nationally however is that it just seems to accelerate this sense that the country as a whole and in particular Republicans and Conservatives in this country are really climbing out on a limb farther and farther away from climate science."
Umm, Anthony, climate science isn't that simple. Don't make me go there....
By the way, Amy Quinton has done a very good job covering RGGI issues in New Hampshire. This story was referenced in a footnote in the complaint filed in the New York Supreme Court so people outside of New Hampshire have taken note too.
RGGI auctions and allowance sales prices
Next Auction: 2013 Sep 4.

This table summarizes the winning bids for the RGGI auctions to date. Follow the links to the summary and full auction reports. These have some important information not covered in these pages, e.g. the number of allowances won by power producers vs. speculators hoping to sell allowances for a profit. In auction 6, 35% of the allowances went to speculators. In auction 10, speculators had lost interest and only bought 3% of the available allowances. In auctions 9 and 10, fewer allowances were bought than were offered, so I assume power producers have plenty to run through the end of 2011.

Perhaps not - Auction 11 was sold out! However, the ratio of allowances bid vs available dropped from auction 7 the year before from 2.3 to 1.1. More allowances were available, possibly because the two preceeding auctions were undersold, but both the number of bidders and bids did drop. Indeed, auction 12 results show the lowest interest in allowances yet, only 30% of the current period allowances sold, surely power producers have nearly all they need this year. I expect only 10-20% of available will sell in the remaining auctions. The future period sales will do better, but will struggle to be fully sold.

Auction 13 sold 17.7% of the current control period allowances and none of the 2012-2014 control period allowances. So much for my thought that producers would start buying allowances for next year. Apparently producers are happy with the allowances they have, or they're confident they can buy whatever they need next year and aren't worried about commodity traders trying to force up the price. I now expect auction 14 to sell only the current period allowances producers need and none of the next. That turned out mostly wrong - 63% of the current period allowances sold in December. Perhaps producers are deferring their purchases, confident that many allowances will be available. That would support the 0% of future period sales.

All the 2012 auctions, 15-18, continued similar bidding suggesting that producers are confident that what they need will be available.

In 2013, The RGGI folks proposed reducing the 2014 allowance cap by 45%, which brought a 50% increase in the auction price for the first two 2013 auctions.

It also brought institutional speculators back into the market, and they bought some 30% of the offered allowances. The number of allowances sold jumped too, from 20 million in December (of some 40 million offered) to 38-39 million in the first two 2013 auctions.

The columns named bids::supply reflect the interest in each auction. When the value is greater than 1, it means some people were outbid. Done well, those people don't need the allowances for that quarter, and deliberately bid low. They should be back the next quarter with a more competitive bid as they get closer to needing allowances. (They can also buy allowances between auctions on the open market, but there is very little activity there now.)
Relative RGGI footprint sizes of the region and New England
New Hampshire's HB 519-FN nearly was amended with something to set the withdrawal trigger to other states withdrawals representing 10% the "load." It didn't define what that is, but I looked at the number of CO2 allowances sold in Auction 11 and came up with the following table. It was useful to help understand the amendment, and will be for other purposes.
RGGI footprint size
state or
region
1,000s of
allowances
% of
region
% of
total
CT
2,058
16.5
4.9
ME
1,257
10.0
10.0488
3.0
MA
6,571
52.5
15.6
NH
1,659
13.3
4.0
RI
658
5.3
1.6
VT
306
2.4
0.7
New
England
12,509
100.0
29.8
DE
1,206
4.1
2.9
MD
7,528
25.5
17.9
NJ
5,595
19.0
13.3
NY
15,153
51.4
36.1
non-NE
29,482
100.0
70.2
Total
41,991
100.0
---
Contact Ric Werme or return to his home page.
Started 2011 March 6. Graphics by Hannah Werme, with base map data from National Atlas.