DCYF's Tricks of the Trade
I wrote this page between 1999 and 2001, and in some ways it's become a little stale. Fortunately, I haven't had much new material to add. At the time states' Child Protection Services were under far less scrutiny than they are now. I received Email from around the country from people reporting that many of the "tricks" I described had been done to them.
I'm not sure how much things have changed since then around the country, but I am receiving less Email these days. While things have improved in New Hampshire, don't assume they have elsewhere. Back then few people except those investigated for false reports really understood the impact on their families. These days news media, Web pages, and Email lists have made the public more aware of the problems. Conversely, CPS agencies no longer enjoy all the secrecy they once did and have become more accountable.
Therefore, I've made a pass through this to make it be somewhat more of a historical document. On the other hand, if I hear reports that these tricks are still being used, let me know if I can post the details here. I can also act on it better than I could in 1999, so if this is not a historical document, perhaps we can make it become one.
Case proceedings are secret
This turns out to be a key tool, but has been tamed a bit since 1999. Before 2002 the law said: From RSA § 169-C:25:

II. It shall be unlawful for any party present during a child abuse or neglect hearing to disclose any information concerning the hearing without the prior permission of the court. Any person who knowingly violates this provision shall be guilty of a misdemeanor.

After a round of public hearings, a bill was introduced that significantly weakened this law. It now reads:

II. It shall be unlawful for any person present during a child abuse or neglect hearing to disclose any information concerning the hearing that may identify a child or parent who is involved in the hearing without the prior permission of the court. Any person who knowingly violates this provision shall be guilty of a misdemeanor.

There are some open hearings in New Hampshire, but other states, notably Minnesota, open nearly all child abuse/neglect hearings. So, while public scrutiny of abuse/neglect hearings is still limited, at least now participants can share information about what happens behind those closed doors. Not only does this allow families to learn more about what to expect, but defense attornies can too.

The families with the least resources are most impacted.
This is not so much a trick as it is a large crack in the support system. Families with young children usually have young parents who are struggling to keep up with the costs of raising a family on a small income. Yet these families are the ones with the greatest need for services and often the least able to juggle their jobs to attend hearings, counseling, home visits, etc. Some parents have lost their jobs and homes while going through the process and become less able to support a family.
Don't forget the neglect charge!
If one spouse is accused of child abuse and the other says that's not possible, the latter spouse may be in denial and should be charged with neglect for leaving the kid in the custody of the alleged perpetrator. Even if the court throws out the abuse charge DCYF can still proceed with the neglect charge. The (admittedly dated) NH Bridges training manual even describes how to record the neglect allegation in one of its sample scenarios.
Our mission is more important than your rights.
Oftentimes the first contact someone has with DCYF is at the home's front door. Sometimes the contact person is a DCYF social worker, sometimes it's the local police. Usually they will want to be let in to see the children. Social workers are more likely to say you must let them in. Actually, no government official has the right to enter your home without a search warrant, except in extreme situations, e.g. when there is screaming or gunfire inside.

DCYF is improving in this area. When I wrote this, a 1986 DCYF Court and Legal Handbook detailed how social workers need not be unduly concerned about your rights and how department heads should meet with justices to "update the judges on any changes of the law [etc.]... to ensure the Court's fullest cooperation." In 2001 Email was sent to inform staff to stop using it and to destroy any copies. I don't know what staff is taught about parents' rights these days.

On the other hand, 2001 was the year Jim Anderson, a lawyer for DCYF, said in a brief arguing that DCYF has the right to enter client's houses with neither permission nor search warrant: "... because there is not a constitutional reason to be free from child abuse investigations, Watterson v. Page, id, the viewing of the residence of a child to assess safety and health conditions does not constitute an unreasonable search, and is, therefore, is not subject to constitutional provisions of search and seizure."

It will be best if you cooperate with us.
Why stand up for your rights, anyway? You know you're a good parent and if you just show them they'll apologize and go away. DCYF is a master at using this gambit against you. Early on, social workers will give you bad marks for clothes on the floor, even in the kids' rooms or laundry room. In one of my wife's early cases, a parent was cited for clothes on the dining room table. The home was a small apartment and the washing machine was next to the dining room. Having "too little" food in the house suggests neglect, even if today is grocery day or if you have a teenager in the house. I received Email from someone who would've been at the grocery store but for the home inspection scheduled that morning. I made up the comment about the teenager. If the house is immaculate, they'd probably note the home environment doesn't provide adequate stimulation.

Later on, they'll promise to return the kid if you submit to psychological evaluation or sign something that acknowledges the kid was abused. Once the court sees the reports and decides that it would be too dangerous return the kid home, expect to learn about proceedings to terminate parental rights. (I.e., your kid gets put up for adoption.)

You are guilty until proven innocent.
Well, make that simply "You are guilty." Even if DCYF takes a child due to suspected abuse but doesn't allege that you or a family member is the abuser (or that you "failed to protect"), don't expect DCYF to return your kid. Much of this is possible thanks to the predominance of civil instead of criminal proceedings. The standard of proof is much lower, you don't have the right to confront your accuser, hearsay is admissible in court, a trial by jury is not a right, and the proceedings can be secret.
Whatever you say will be twisted and used against you.
People tend to do best in DCYF investigations if don't give them the time of day or any other information. Those that do talk often immediately regret it. For example, consider this account from Missouri:

However, when the social worker originally interviewed me, she asked me if my husband had an anger management problem. Keep in mind, we were only accused of neglect for refusing to apply for Medicaid, nothing else. The conversation went like this:

SW: Does your husband have an anger management problem?

ME: No.

SW: Does he get angry?

ME: Of course he gets angry, everyone gets angry.

Social Worker's Petition to the court reads: "Mother openly admits her husband routinely gets angry but doesn't see this as a problem."

DCYF is a finely tuned machine.
For example, they like to deal with doctors that they've dealt with before. That's fine, you and I do that too. However, DCYF likes to deal with doctors that are quick to diagnose child abuse. DCYF social workers are quick to find negative things to say about interviews, visitations, etc. Some neutral reports have been reworked to sound more negative. Those laws that DCYF explains to the judges were often written by DCYF and brought to the legislature by friendly or misguided representatives. Expect that anyone associated with DCYF is more interested in maintaining their contracts with DCYF than in helping you. Don't take on DCYF alone.
CASA is all the support a child needs.
CASA (Court Appointed Special Advocate) is an organization devoted to protecting abused children. Noble enough, but NH CASA has some mighty strong ties to DCYF. The June 1998 issue of Foster Care had an article about how CASA works closely with DCYF. Wish I'd saved it. Don't expect them to put your child's interests first. Expect CASA to agree with DCYF more often then they will agree with you. There are some good CASAs. I used to work with one who had some interesting insights about the typical CASA's mindset and problems with DCYF. Invite your child's CASA to sit on your side of the court room.
Children are best taken from school on a Friday afternoon.
You'd think that if DCYF was certain a child was being abused that they would rescue the child immediately. Apparently few children are being abused enough to merit that. Instead, DCYF waits until Friday afternoon, calls the kid's school, asks them to pull the kid from class for a pickup at school. This avoids an ugly scene at home, the need for a search warrant, and best of all, the courts are closed over the weekend so the family can't try to have the court order lifted until Monday. Even then, DCYF has three business days to file an abuse petition, so there may be nothing to argue against.
Ya gotta believe the children.
Kids are lousy liars. They also don't keep secrets well. On the other hand, they are impressionable. Long interview sessions and leading questions will often lead to incredible stories of abuse. (And many are not credible and lack any supporting evidence.) Older kids can stick to their story that abuse didn't happen, until an interview is made that has a transcript but the tape was lost. Even when there is a tape, it's worth checking the accuracy of the transcript.

So the rule appears to be "Ya gotta believe the children, even if ya gotta put words in their mouths."

I hope that some of this is abating. In the aftermath of several fouled up investigations in the 1980s child interviewers are now better trained to avoid inadvertently instilling false memories. NH law intends that all interviews with children be recorded. Be sure to demand copies as part of discovery!

Only one kid gets abused.
One of the oddest DCYF behaviours is that they tend to take only one child from a family. The claim is that many parents abuse one particular kid, and favor the others. I don't know of any studies that back that up, perhaps this is a suggestion of misdiagnosed medical conditions or that not all children have the same personality.

This shows up in Osteogenesis Imperfecta cases. The kid with brittle bones gets "abused", the sibling with normal bones (and collagen) doesn't. CPS diagnoses one kid as abused, the other okay and doesn't think it's odd that child abusers are so selective.

Belay that trick - all the children are at risk!
In the past couple of years, DCYF and their counterparts in other states have been removing all the children, saying that even if they haven't been abused yet, they're at risk. And the judges agree. For example, in a 2000 NH case, Mom didn't notice a twin get out of the car to retrieve a towel. The swim club didn't call her cell phone, they called police. NH's mandated reporter law provides immunity for people who make non-malicious reports of abuse and neglect. The policemen could be charged with a misdemeanor if they didn't report and there turned out to be neglect, so they reported it. The result was fourteen neglect charges for the seven kids and two parents.
We don't need a second opinion on medical cases.
Doctors are fallible. There are doctors who specialize in recognizing child abuse, but they aren't in New Hampshire. You won't find much help nearby, either. You might think the Boston Children's Hospital Child abuse clinic (617-355-7979) has promise. However, the Boston Globe did a major story on their misdiagnosis of Brittle Bone disease in twin children and what that did to the family. In 1999, one of our contacts in Massachusetts says "You absolutely do NOT want to use Boston Children Hospital's group." They may be improving, in 2006 http://www.protectourfamilies.com/ is working with them to solicit surveys about families' experiences with OI, the diagnosis, and CPS involvement.

We've also heard of problems with the Spurwink Child Abuse Program in Portland, Maine.

Safety net or snare net?
Expect that all state agencies have links with DCYF. There are suggestions that DCYF has access to mental health, welfare, school, and daycare records through the NH Bridges database. This provides DCYF with all sorts of stuff that can be used to show you are incompetant to raise your children. One person who took advantage of lead paint testing offered by another branch of Health and Human Services was contacted by DCYF soon after he heard lead paint was found.
Winning isn't everything, it's the only thing! - Vince Lombardi
Or so it would seem. While legal ethics demand that lawyers represent only their client's side of the story, prosecutors are required to put truth and justice first. From New Hampshire's Rules of Professional Conduct:

Rule 3.8 Special Responsibilities of a Prosecutor

The prosecutor in a criminal case shall:

refrain from prosecuting a charge that the prosecutor knows is not supported by probable cause;
make timely disclosure to the defense of all evidence or information known to the prosecutor that tends to negate the guilt of the accused or mitigates the offense....

ABA Model Code Comments

A prosecutor has the responsibility of a minster of justice and not simply that of an advocate. This responsibility carries with it specific obligations to see that the defendant is accorded procedural justice and that guilt is decided upon the basis of sufficient evidence.

While the above refers to criminal cases, there's no section specific to civil cases, largely because this is the main area where the state is a party in a civil case.

Home visits, supervised visitation of children removed from homes, psychological evaluations, etc. are all used to find information to help win the court hearings. Positive reports may exist, but DCYF may not bring them to court and often neglects to give them to the defense.

Promises are meant to be broken.
At a public hearing on DCYF field practices, when members of the public spoke, most of them reported that DCYF's social workers and lawyers regularly lie to them. Social workers have even warned parents that DCYF can say pretty much anything they want to get an ex parte order from a judge. From what once could be attributed to forgetting case details or innocent misspeaks, it appears that lies and broken promises are so widespread that they constitute another trick of the trade.

I once read an article on police lying at drug trials. The author concluded they lie because they can. The courts will believe them and disbelieve the defendant. Besides, the police are the front line in the War of Drugs. The same holds for DCYF, but they do it "for the sake of the children." The secrecy about case proceedings makes it easy to lie with little risk of being caught. Lies are productive, especially in an arena that has little hard evidence and many verbal statements.

About the most intimidating thing you can do to a DCYF social worker is to bring an audio or video recorder to a meeting. There is a very good chance they will cancel it. Obviously, this works best if you didn't want the meeting in the first place. It can backfire if you want to record a supervised visit with your child.

The best legal defense is long and costly.
So, a kid has been removed and you can't afford a lawyer. When Monday rolls around, you petition the court for a lawyer, and the court obliges with one and gives the lawyer a $1,200 budget. The lawyer can file a motion to exceed that amount, but DCYF can (and does) object to the motion. The lawyer is sympathetic, but is probably still paying off the law school loan and really can't afford to stick with the case for months. Besides, the doctors say the kid was abused, and well, if you just sign a paper saying you admit there was abuse and will undergo psychological counseling, you're sure to get the kid back.
And then there's the Dirty Tricks of the trade.
Since I originally wrote this page, we keep hearing from people around the country who say everything above has been done to them! It follows that similar pages from other states should be interesting. If you're ready for more, take a look at Greg Hession's Dirty Tricks page at his MassOutrage site. Greg is a lawyer, so you'd expect his list would be phrased more like a legal brief. However, strange things happen to people who spend a few years dealing with the system in Massachusetts.
What can you do when DCYF becomes part of your life?
It would be nice to end this page with "and they all lived happily ever after." Unfortunately, the list above is incomplete.

Cooperating with DCYF means playing into their hand, and it appears that refusing to cooperate works better, especially if they don't have your kid. Take Friday off from work and school to visit some out-of-state relatives. If DCYF wants to come into your home, remind them they need a search warrant. Video tape all meetings with social workers. Sign only documents you agree with, preferably after consulting with your lawyer. Don't sign documents that say you did something even though you didn't. Read the Bill of Rights and books about it, then explain it to the social worker and your lawyer. The kid needs a lawyer, don't expect a CASA to be impartial, let alone partial to the kid's interests. Keep a journal of everything that involves DCYF, the school, etc. Avoid using state services whenever possible. Vote for Libertarians. Stop using the phrases "It's a free country" and "Justice is blind." Buy a vanity license plate: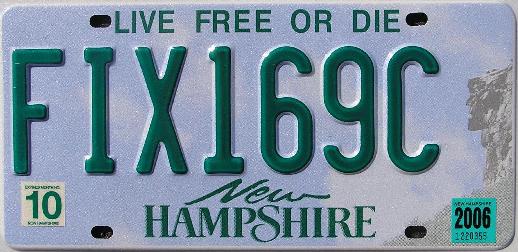 ---
Contact Ric Werme or return to his home page.
Last updated 2006 March 18.