Lewis, Clark, and Transamerica a/k/a "Mom's Fiftieth Birthday I-don't-want-to-grow-up Bicycle Ride Across America"
Idaho and adjacent parts of Oregon and Montana
This is one segment chronicling my family's bicycle tour through the northwest, and Paula's continuation beyond Montana. If you came here via a Web search, you might want to back up to the index page to start with the overview.
---
July 29th
As we approach the Snake River, make a hairpin turn, we first climb past the Oxbow Power dam to a flat road built by Idaho Power along the reservoir. We get stopped again first for powerline construction and a little more mudslide cleanup. Later more powerline construction. I was wondering what it took to plant those towers in the middle hills and whatnot.
| | |
| --- | --- |
| | The volcanic rocks since the Cascades have gotten stale, but this barely balanced column is a welcome variant. It rather looks like a refugee from Easter Island! |
Along the reservoir are various old plum trees, some red, some yellow. The fruit is only about the size of large cherries, but quite tasty. The road ends at another power dam where we cross the river and enter Idaho. Climbs past power dams are almost always steep, and this is no exception, but not too long or high. Now the road is not right at water level, but climbs above it, turns inland and down to cross feeder rivers, and climbs back up. Much more like California coast. After about the third one of these, we stick to the stream, and start a long, steep, and hot climb.
Climbing such things is as much a matter of managing cooling as is it is strength. Probably moreso. There are a few places where the barbed wire, rocks, or vegetation don't block access and we all stop to sit in the stream. There's no point in changing clothes, as wet cycling clothes help for the next stretch. Beyond that, a lot of the 2000' climb is spent riding from shade patch to shade patch. It takes four hours, but we make it.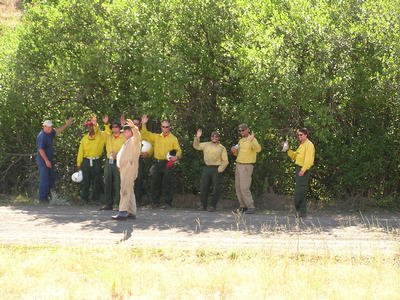 At the top the ride down is much more gradual. We pass a forest fire fighting "camp," more assembly point, with a couple of helicopters and crew standing in the only shady patch. I yell to them to wave as I take their picture. Now Hannah takes off downhill and I begin to think I got ahead of them before finally catching up near Cambridge. Hannah wants a real shower, we windup paying the tent charge at a local Motel ($5), use their shower, and camp in town park with four other cyclists heading west.
July 30th
We leave Cambridge and follow the southeast edge of farm land east and then north to Council. After up and down one hill back to the same river, (with a good spot to just sit in, as it's yet another hot day) we have a long climb up to leave the Weiser watershed and enter the Salmon. One campground we checked out near the top (and to have a snack and sit in the river) is closed to camping because the bridge to the camping area is closed due to safety reasons. It was an old train bridge and looks plenty strong enough to me! The water is off, but there's another little stream that looks fine to filter. I surprised a deer in my wanderings and came across a recently dead rabbit, but the outhouses in the campground are clean, odor free and have slightly nibbled toilet paper. However, it's early afternoon and we decide to continue on.
Curiously, the normal stiff climb at the top is completly absent, it's just a broad and mostly flat saddle. A rather pleasant surprise. It's probably why the railroad went that way too. So it's no problem rolling down to New Meadows for the night and we stay in the motel part of the New Meadows Inn and B&B.
July 31st
Today starts cool and laundry we hung behind the motel is still wet. Maybe we get a break from the heat? Probably not as it's mostly all downhill today. Nice broad green tree lined valley, then down into the Little Salmon canyon land to Riggins where we break for blackberries at some of the copious bushes either side of town, lunch at a little restaurant that sells blackberry and hucklebery jam made in town, and I get mostly caught up with this in their library.
We join the Salmon River after Riggins where Hannah immediately gets another flat tire while I'm dunking my jersey in a stream just behind them. No shade, I change the tube to get it done fast and we continue. The Salmon is preserved as a "wild and scenic river" and attracts white water enthusiasts from all over. Even with the relatively low water, it's pretty silty, but there are a few side streams for soaking jerseys. At a stop before Riggins I found a nice indoor/outdoor electronic thermometer that mounts on my handlebar pack mount pretty well. With the outdoor sensor hanging in the shade, it's still reading over 100F, but things are not quite as bad as some days.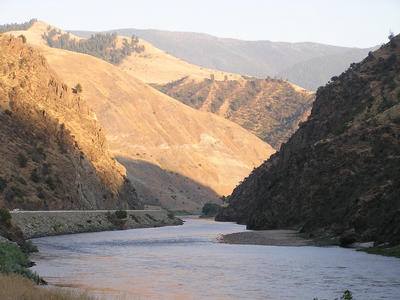 It would be really nice to make it to White Bird today, but after dinner at another restaurant, we're sufficiently beat to give up at a BLM (Bureau of Land Management) campground where we're the only ones except for a tent on the river at appears unoccupied tonight. There's no decent place for tents, so Hannah sleeps on one picnic table, Paula on a large covered one, and I sleep on flat sand near the river. We have made it past an old lava flow that that was the hardest obstacle to the Salmon River, so the canyon is beginning to open up and and the heat radiating from the canyon walls isn't nearly so hot. Still, it's over 90 at the campground.
One vehicle pulls in, drives around, leaves. After dark, another one pulls into our camp site, stops, sees Hannah, starts, moves to another, stops, starts, repositions, stops, does it again or so, and finally stops for good. I think it was one person and dog, but given all the subsequent truck door slamming it sounds like three. I'm still not sure why he bothered with the camp fire.
August 1st (Yea! A new month!)
We get up a bit late but leave before the guy with the pickup. Our plan is to spend a rest day in White Bird (1593') before tackling White Bird hill (summit 4245'). We pass on one restaurant because it doesn't have air conditioning, but find that when Rt 95 was rerouted, White Bird began shutting down. There are two restaurants (both closed, at least at the hour) and a small store (for sale with mostly empty shelves). One thing I had been thinking about was using a rafting shuttle service to climb the hill, and there's a sign about one at the store. The owner calls someone who is about to leave for Grangeville, and he arrives at the store in three minutes. I ride in the back to keep the bikes under control, and five ride in front, fortunately the truck has a rear seat. The driver drops us off at the top of the hill and refuses all attempts to give him money. Nice guy. Good thing we left that first restaurant!
There's a nice downhill then flat into Grangeville. We still nead a break, but the motels we check with are full in part due to the fire fighters, helicopter pilots, etc. dealing with fires in the area. Heading out to the Lion's Club Park to make camp there, I notice an old motel that became apartments and is now becoming The Essential Evergreen Bed and Breakfast that has room. No air conditioning, but ceiling fans will do. And it's a two bedroom suite, well it's a whole apartment a heck of a lot better decorated than any I've ever lived in! We're still at 3390', Paula suggests that since we did some biking today, we ought to stay another. Besides, a package that should have been sent to the local post office hasn't arrived. So we'll stay another day.
August 2nd
Still in Grangeville.
---
August 3rd
We leave Grangeville today. The heat has broken and the morning temperatures are in the 60s. Just out of town is a very steep, twisty, and cracked downhill down the side of a canyon. Cracked as in places where it's clear the land is slumping downhill. There are also many places where the highway dept. has patched things together. This road must be a bear to deal with during wet seasons. I'm not sure what the bottom elevation is, but I think it must be about 1800', the start was about 3390.

At the bottom we continue downstream with the South Fork of the Clearwater River and pass through part of the Nez Perce Indian Reservation, though there's no real trace of their presence along the road. The peacable Nez Perce got one of the rawest deals of the "resettlement" programs. Signs along here and for many miles beyond describe the "Trail of Tears," their attempt to flee the US Army's chase.
In Kooskia we buy up some food for a long service-free stretch from Lowell to Powell and turn upstream on the Middle Fork. An information area describes some of the geology ahead, and I'm pleased to read about a granite upwelling of the Idaho Batholith as I'm very tired of seeing volcanics (mostly basalt and ash layers) ever since the top of the Cascades. Along the river are ripe blackberries, wonderful snack food. Not so wonderful saved in leaky bags for ice cream later. We stop at a restaurant in Lowell and some showers make us decide to stay in an A-frame in a nearby campground.

There are a couple plum trees here like those we saw along the reservoirs. While the ripe fruit is fine, there is also fruit all over the ground and I have to spend 15 minutes tossing intact, stepped on, and rotting fruit into the grass behind the cabin.
August 4th
From the campground we continue upstream. the Middle Fork is a good size river, and the road hugs the river so it's essentially flat. This is the sort of conditions that allow for impressive mileage. Unfortunately, Paula is having a major pain day and is really dragging. We only make it about 40 miles and stop at a turn off that has a couple of good camp spots. Hannah camps near the river, Paula and I a little ways up. The Forest Service folks have stapled "Stage II" fire restriction notices to some trees near rock ringed campfire spots! (About the only fire you can have is a camp stove.)
August 5th
We get up a little latish, pack up and climb back up to the road. Before we even get settled in the saddle, we pass a couple state police SUVs and come across the wreckage of a tractor-trailer truck! It's sufficiently mangled that I don't recognize the cab at first and think it's a large RV, but when I get past it and see the trailer barely in the water I figure it out. The police say the crash happened around midnight - we didn't hear a thing! The driver, a woman, is dead. There's no skid mark, so our hypothesis is that that she fell asleep, drifted to the left, took out 100' of guard rail, and the cab hit the river bank then the trailer swung around it. What a way to start out the day!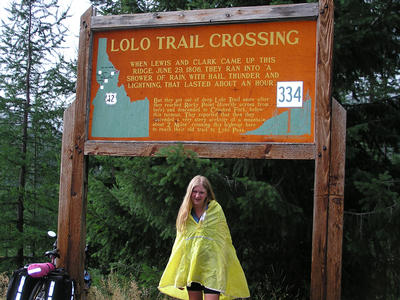 The rest of the day goes well. We make it to Powell and have lunch. Our route turns up a creek, and gets significantly steeper, then leaves that for the serious climb up to Lolo Pass (5233'). Paula is doing a lot better today and we reach the pass easily, but not until the visitor center at the top closes for the day. On the way, rain clouds form and catch up with us, but the rain doesn't last long or is too heavy.
Along the way, a fellow drove by us and pulled over at a turnout to chat with us. Joe has ridden all over the world, most recently in Asia, and was driving back to his job at a hospital on an indian reservation. He gushes about what a great thing we're doing, especially Hannah, who he gives a Tibetan necklace, hematite bracelet and a pendant of Blessed Martin that Joe got when he was 12. Joe promises it will help keep the trucks away. He also knows Greg Siple, one of Adventure Cycling's founders, and the woman who spent a year living in a redwood tree until logging companies promised not to log that grove. Quite a character!
The ride down starts with a picture at the Montana state line sign, and Paula sees a juvenile elk soon thereafter. We sail downhill and stop for the night at Lolo Hot Springs (on the cheap, non-tourist trappy side).
August 6th
A few more showers today in the morning, and we head off down hill at quite satisfying speeds. The "rain shadow" isn't quite as pronounced as in the Cascades and things stay reasonably green. Also, we wind up well above where we started the climb to Lolo Pass. As things level out, temperatures get back to the 90s, but more rain clouds spring up too. Along the way we stop at Fort Fizzle, derisively named by locals during the Nez Perce Pursuit. The Army rounded up locals to help stop the Nez Perce, but after a parlay where the Nez Perce restated their peaceful intentions, the locals lost interest is the Army's plan. The Nez Perce took a ridge to avoid the Army's fortifications and continued their trek.
At the end of the stream we've been following is Lolo and a turn north puts us on US Rt. 93. (On my old tour I saw bumper stickers that said "Pray for me, I drive US 93".) I haven't been on this stretch before, but it's four lanes, center divider, not much breakdown lane, a lot of traffic, a 65 MPH speed limit, and some roadside crosses where people didn't survive their trip. And people are astounded when they hear that some interstates in the west are open to bicycles!
Fortunately, it's only 10 miles to Missoula and I lead us off at the first decent road in the south end of town to bring us to the University. I had stayed in a dorm when I was here before, but while things look about the same, the people think my request about lodging is rather odd. So we stay in a cheap motel in town. Working fine, so far.
Aug 7
We drop into the office of Adventure Cycling right after breakfast and get treated like the special people we are. They have a lounge for visiting cyclists, free soda, ice cream bars, and a computer with Internet access and a fuzzy screen. The day is filled with shopping, chatting, looking for a car rental company with cars, and web updates.
In fact, the sun is setting, it's time to go for the day.
Tomorrow (when I finally find a car!) we head to Yellowstone National Park for a couple days.
---
Other links: